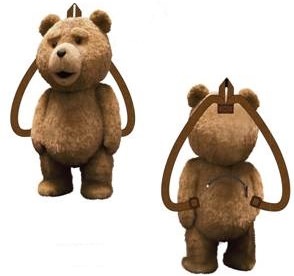 We all remember Ted the talking teddy bear from the movie Ted.  Maybe it's not because he was cute and cuddly but hey who is keeping score.
Now you can have Ted as a backpack. Yes this is a 16 inch tall teddy bear backpack that looks just like Ted.
And to make things worse (or better) it even talks like Ted.
Yes this backpack has potty mouth just like Ted. So if you want to take this backpack to school be careful that he doesn't start talking in class.
And this backpack is an officially licensed Ted product and that means that he really talks like Ted.
Need a new backpack? Get this Ted Talking Bear Backpack.