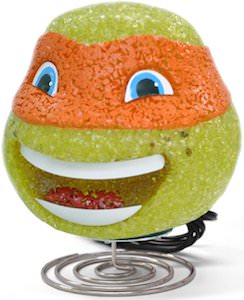 Are you or your kids big fans of the Teenage Mutant Ninja Turtles?
Do you have a favorite Ninja Turtle? If its Michelangelo you will love to get one of these cool TMNT lamps.
This cool Teenage Mutant Ninja Turtle Eva lamp is in the shape of Michelangelo's head wearing his orange bandana and has a big smile on his face. He is sitting on a metal swirling coil as a stand.
The Michelangelo Eva lamp measures 10 inch x 4.25 inch x 6 inch in sixe. It would make a great gift for any TMNT fan out there.
If your child room is themed TMNT and is scared of the dark just turn on this cool Michelangelo Teenage Mutant Ninja Turtle Lamp.