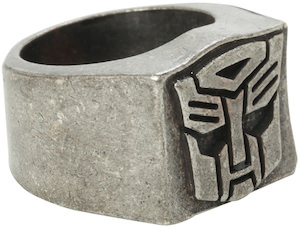 Looking for that manly ring based on the Transformers?
How about this Autobot logo ring?
This ring looks like a solid piece of metal and on the front you can find the Autobot logo embossed in the ring.
A ring like this is special and should be only be worn by real Autobot fans.
If you are looking for special Transformers jewelry then a ring like this could be the one.
And sure this Transformers ring comes in different sizes to make it fit you perfectly.
And the embossed logo is cool you can even use it as a stamp if you want.
Come and dress up your finger with a Transformers Autobot Logo Ring.