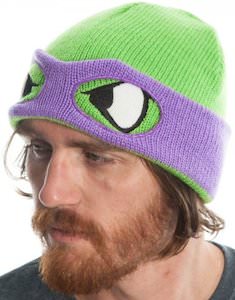 If you are looking for the perfect beanie that you can just wear any time of the year then this could be the one.
This green beanie is based on Donatello one of the Ninja Turtles.
Yes this is a Teenage Mutant Ninja Turtles winter hat that fits most adults and teens.
Besides the turtle green color this hat also shows the eyes of Donatello and the famous purple mask and that gives this hat a fun vibe. And it will look like that you now have 4 eyes. Two of your own and two from the Ninja Turtle.
Get that head covered with this fun Teenage Mutant Ninja Turtles Donatello Mask Beanie Hat.