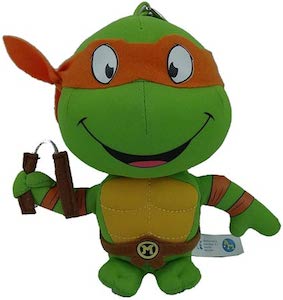 Cowabunga Dude is one of they many favorite sayings from the Ninja Turtles.
Do your kids loose there keys all the time?  Are they a fan of Teenage Mutant Ninja Turtles?
If so this Michelangelo plush key chain will help them find their keys. He can even just hang out on your kids backpack.
He is only 5 1/2 inches in size and carrying his nunchucks in his hands. Wearing a orange bandana and armbands. Michelangelo also as a special brown belt with a M in the middle.
Help your kids from loosing their keys and get them one of these cool Teenage Mutant Ninja Turtles Plush Key Chain.