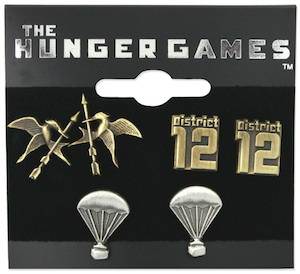 If you are a real fan of The Hunger Games then you will really like these earrings.
This is a pack of 3 different sets of Hunger Games earrings.
The Earrings are:
Mockingjay
Silver Parachute
District 12
A true fan of course knows the meaning of those as they mean so much to Katniss and the story.
If you are a real Hunger games fan or know one then these earrings are for you.
Just come have a better look at The Hunger Games 3 Pairs Of Earrings.