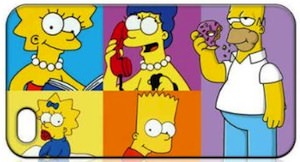 If you like The Simpsons then you are gone love this iPhone case.
On this case you will see pictures of Lisa, Bart, Maggie, Marge and of course Homer. They are all put separate in a colorfull block but this makes a fun and colorfull iPhone case.
This iPhone case is a hardcase and that makes it perfect to protect your phone from harm.
And this Simpsons iPhone case is for the iPhone 4 and the iPhone 4S.
Get the family photo's on your phone with this The Simpson Family iPhone 4 And 4S Case.