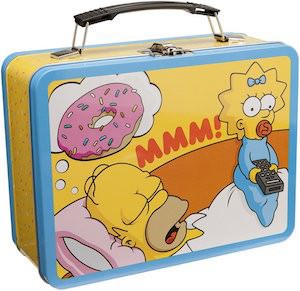 Are you a Simpsons fan in need of a fun lunch box or storage container?
If so then you have to check out this metal lunch box that shows Homer Simpson and his obsession for donuts.
On one side you can see Homer sleeping on the couch with Maggie sitting on his belly while watching TV and of course Homer is dreaming of Donuts. On the other side you can find Homer still thinking of that pink glassed donut.
Just imagine having you daily lunch out of this amazing looking Simpsons lunch box and if you don't want to use it food then you could use it to store some of you Simpsons collection in it.
Come admire it from both sides and then order your own The Simpsons Homer Donut Dream Lunch Box.