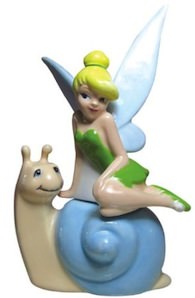 If you like to spice up your food then you will need a nice salt and pepper shaker set.
And if you like Tinker Bell then you found it.
This cute set shows a smiling happy snail with Tinker Bell sitting on his shell.
Of course they are the salt and pepper shaker and they are kept together when not in use by the build in magnet.
Now you don't only spice up your food you even spice up your table decor with this Disney Tinker Bell And Snail Salt And Pepper Shaker Set.