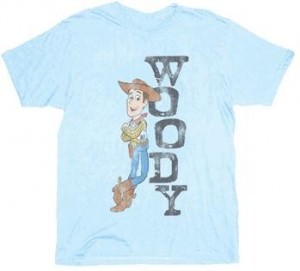 Woody, from the fun and cool animated series of movies Toy Story is a favorite character among most.
This is a very classic t-shirt that features Woody in his sheriff suit, arms crossed, standing up leaning against a post of his name horizantaly "WOODY". This image is a faded print, this gives it a very retro vintage look making it unique and memorable.
You can find this officially licensed t-shirt in many sizes, show off your love for Woody and the cool series Toy Story.
Get your Toy Story Woody Distressed T-Shirt.