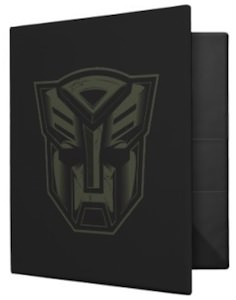 Most offices and kids at school use boring blank binders.
But you of course don't!
This black binder is great for any Transformers fan as it shows the Autobot logo on the front cover.
The design is not real colorful but it almost blends in to the background but still there very strongly.
And this make this Transformers binder even great for use in the office and of course school.
And this Transformers binder is quality to. The Autobot binder is made by Avery and can't easily be found in any store.
Show the Transformers on who's side you are by using this Transformers Autobot Binder.