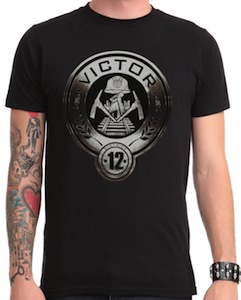 After winning the Hunger Games Peeta and Katniss got this t-shirt.
This black t-shirt  shows a silver crest with the word "Victor" on top and "12" on the bottom and in the middle the logo of district 12.
On the sleeve of this shirt it says "The Hunger Games Catching Fire".
Yes the victors from district 12 all got a t-shirt like this so maybe even Haymitch has one.
Do you want to have one to? You can as this t-shirt is available in sizes X-Small – X-Large and it is made from 100% preshrunk cotton.
Are you the Hunger Games fan that can't get enough of this story?
Don't wait just come and get your The Hunger Games Victor District 12 T-Shirt.