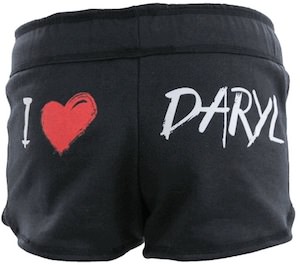 If Daryl Dixon is you favorite The Walking Dead character then these girls shorts could be perfect for you.
On the front of these black shorts you can find some blood splatters and The Walking Dead logo and on the back you can see "I heart Daryl".
Just imagine these shorts in your wardrobe, they could become you favorite shorts of all time.
The Walking Dead shorts have a pull string to easily adjust the fit and they come in junior sizes Small – XLarge. And these Daryl shorts are made from 50% cotton and 50% spandex to make them really work with your body.
Tell the world about Daryl by wearing these black The Walking Dead I Heart Daryl Shorts.