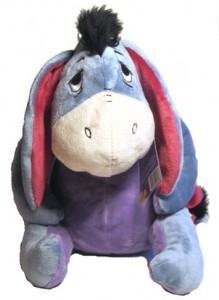 Poor, poor Eeyore, doesn't look sad, it's a good thing that he is so cute and cudly.
This is a plush Eeyore from Winnie the Pooh, This Eeyore has all of his great features like his big droopy ears and his nice fuzzy tuff of fur on the top of his head aswell as the adorable face.
Measures a total of 13 inches in length and is high quality and very durable, yet so soft and cudly you wont be able to stop hugging Eeyore.
Get your Winnie The Pooh Eeyore 13 Inch Plush.