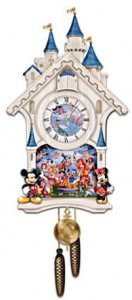 The magical world of Disney theme parks have Cinderella's castle as the focal point, the most memorable thing you will see.
This is a cuckoo clock that features this amazing castle and to go along with it you will see great detailed images of 42 Disney characters all out front the Cinderella castle with Mickey mouse and Minnie mouse up front on the left and right. To anounce the hour with the twinkling sound of a magical wand you can find a tiny figure of Tinker Bell appear.
Made from wood this 25 inch cuckoo clock is hand crafted and painted, it is a piece that can be cherished for years in a Disney collection.
Get your Disney Character Cinderellas Castle Cuckoo Clock.