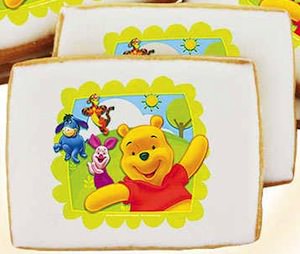 Why have a party with boring cookies that you can find in any store?
What you can't find anything that looks better.
Lucky for you we found these amazing Winnie the Pooh butter shortbread cookies.
These cookies are hand made with the finest ingriedients and all have an amazing picture of Winnie and his friends Tigger, Eeyore and Piglet on them.
Each cookies is about 2.5″ x 3.25″ and has a light sugar icing. And these cookies come in a box of a dozen cookies.
Come and see these amazing Winnie The Pooh Shortbread Cookies.