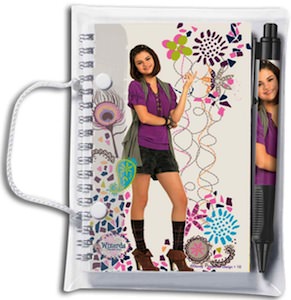 Kids who love Alex Russo from Wizards of Waverly Place will love this notebook and pen set.
The notebook is a spiral one and it is a small notebook (almost as high as the pen) and that makes it  great for quick notes at school, work and home. And maybe this could become your next journal.
The notebook and pen both have a picture of Alex Russo (Selena Gomez) on it and that makes it realy fun to have for a true fan.
Come and check out this Wizards Of Waverly Place Notebook And Pen Set.