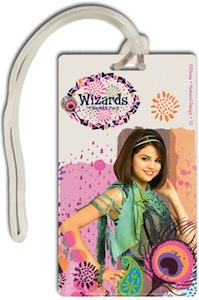 So you don't have a backpack withe Selena Gomez on it. No worries lets solve that with this fun luggage tag.
The tag can be placed on your suitcase or a bag for school and besides having the picture you want on your bag it also gives you the opertunity to put you address on it just in case you loose it.
And now a bit more about what is on it.
The luggage tag is based on the Disney show Wizards of Waverly Place and has that logo on it and below that you see a photo of Selena Gomez as the Alex Russo character from the show.
Make sure you don't loose your bag so dress it up with this Wizards Of Waverly Place Alex Russo Luggage Tag.