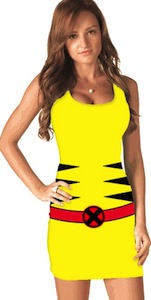 If Wolverine was a women then this is what she would wear.
A nice yellow tank top style tunic dress.
On the dress you see the typical Wolverine scratch marks and a red belt all printed on it.
A costume dress like this is great for costume parties or maybe Halloween but of course you can wear it in everyday life to.
This Wolverine dress is made from 95% cotton and 5% spandex to make it feel and fit perfect.
You can get this junior fitting dress in sizes Small – X-Large.
Do you want to be a Wolverine? If so then come and get your Wolverine Costume Dress.