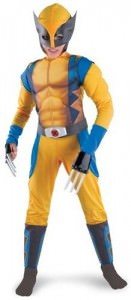 The Wolverine is a ferocious fighting machine he is one of Marvel Comics most popular superheroes, if you love Wolverine and want to release your inner howl then check this costume out.
Featured here is a costume that looks just like Wolverine, find a yellow and blue jumpsuit that has an attached hood and mask along with a belt buckle and check out the feirce long claws.
You can get this awesome Wolverine costume in sizes S, M and L, it includes a jump suit with padded chest, a hood with attached mask, a belt buckle and claws.
Perfect for halloween, costume parties or just throw it on and role play as the cool superhero Wolverine.
Unite with other Marvel Comic superheroes with the Wolverine Kids Costume.