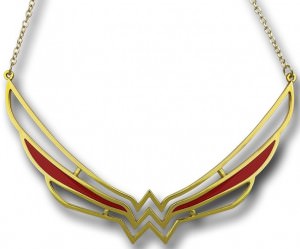 The most famous heroine of all time should be celebrated with a piece of fine jewellery.
You can channel the spirit of Princess Diana of Themyscira, better known as Wonder Woman, when you wear her famous symbol around your neck.
This excellent quality gold toned metal necklace with red accents, features a 6" wide stylized version of Wonder Woman's "WW" logo and is officially licenced as a DC Comics product.
It would be an amazing asset to your wardrobe, whether you are dressed casually in jeans or dressed up for a night on the town.
Be sure to get take a closer look at this Wonder Woman Collar Necklace.