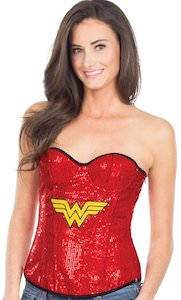 Now you can feel like a real female superhero when you wear this Wonder Woman top.
And this is not just any top not this is a corset top and that means that it will be fitting but that also means that it will look stunning just like this or as part of a Wonder Woman costume.
The corset is shiny sparkly red and has the Wonder Woman in yellow on it.
You can get this Wonder Woman corset in different sizes and although it has a zipper on the side you can still adjust it with the laces on the back to make it fit even better.
Come and take a closer look at this Wonder Woman Corset Style Top.
You may also like: