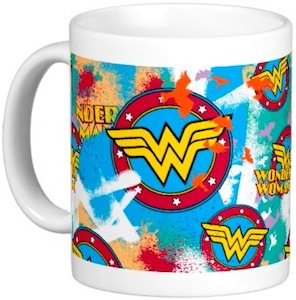 Your morning coffee can now be consumed out of this Wonder Woman mug.
And this mug is covered by a collage of Wonder Woman logo's and it all has a fun look that is different then other mugs based on Wonder Woman.
And this Wonder Woman mug is dishwasher and microwave safe and comes in a 11 and 15 oz version.
Now you can drink you coffee or any other drink out of a fun mug with a nice big comfortable handle and of course Wonder Woman.
Get ready for tomorrows coffee by ordering you own Wonder Woman Logo Collage Mug.