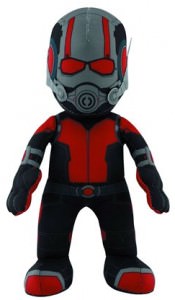 Since Stan Lee's creation in 1962, Ant-Man has appeared as part of the Avengers and Marvel fans have embraced him along the way. Now you can have your own little Ant-Man for yourself or for your little one.
Ant-Man is in his full out costume that shrinks him down to the size of ants. His helmet enables him to control ants to help him in any situation he may find himself in. The suit is blue, red and silver.
This plush doll stands at 10 inches just enough for a little one to hug until they go to bed. It is made from polyester fibers.
You can squeeze him tight at night, the Ant-Man Plush Doll.