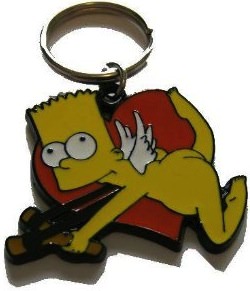 That Bart Simpson has his heart in the right spot we already knew but now he went a little bit further and became Cupid.
This metal key chain shows Bart infront of a heart and he is naked but has some cute white wings and his slingshot.
And this Valentines day he is gone be cupid but instead of bow and arrow he will be using his sling.
The key chain looks amazing with a enamel finish the picture comes out perfectly and the nice 1″ chrome ring offers plenty of space to store some keys.
Maybe this is the perfect key chain to give a special someone the key to your place or maybe you heart.
Come and check out this amazing The Simpsons Bart Simpson Cupid Key Chain.