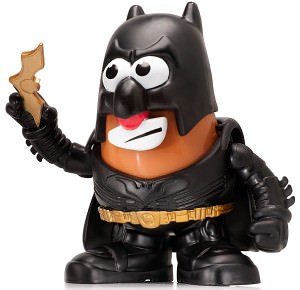 Not only Bruce Wayne can turn into a super cool Superhero.
Mr. Potato Head can too!!!!
Maybe not the most fit superhero, but have you ever had a battle with a potato, they are tough and rugged.
This Mr. Potato Head has all the accessories to turn into one of the cooliest DC Comics heroes, Batman The Dark Knight.
Included are the boots, arms (one holding bat boomerang), cape, mask and a Batman sneer mouth.
Collectors Must Have!!!!
Have fun with the Batman Dark Knight Mr. Potato Head.