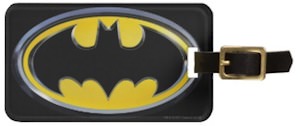 How about a Batman luggage tag?
This luggage tag shows the famous Batman logo on one side and on the other side it shows your information.
And you side is printed on it to so that you never have to worry about loosing the flimsy card.
A Batman luggage tag makes it easier to find you bags at the airport but is also great to have on your backpack, lunch bag and more so that you kids will loose less belongings because it has their name on it.
The Batman luggage tag is 2 x 3.5 inch and of course comes with a little strap to connect it to your bag.
Check out this fun Batman Luggage Tag.