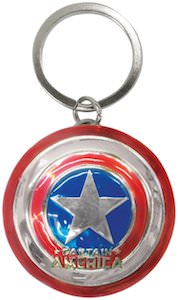 Now your keys can have the shield of Captain America as this is a key chain that looks just like the big shield.
The Captain America key chain is made from pewter and that of course means that it will be sturdy and strong.
And they shield looks just like the one Captain America uses only this one also has "Captain America" written on it.
Now you can carry the shield of your favorite Marvel superhero with you on your key chain.
Besides living with you keys you can also use this Captain America key chain as decorating for a bag or something like that just imagine the shield dangling on the side of your backpack.
What ever way you like to use it first you have to take a closer look at this Captain America Pewter Shield Key Chain.