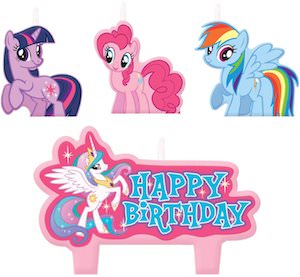 This is a mini candle set from My Little Pony and these candles are perfect for the birthday cake for your My Little Pony party.
The candles are about 1 3/4 inch high and comes in a set of 4 candles.
There is a candle for Pinkie Pie, Rainbow Dash and Twilight Sparkle and then there is a sign that says "Happy Birthday" and that one has Princess Celestia on it.
A My Little Pony birthday party needs a My Little Pony cake and these My Little Pony candles will make the cake look amazing and of course it will be fun blowing out those candles to.
Get ready to host the My Little Pony party of the year and do go without this My Little Pony Candle Set.