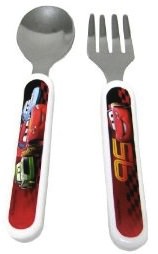 Little kids come to dinner to maybe it is Thanksgiving or Christmas dinner and that means you need to think how to keep them happy.
How about a spoon and fork with characters from the Disney movie Cars? I am sure you gone make some kid real happy. And on the end of the day you can just give it to them as a present to. You will get some happy looks from the Lightning McQueen fans out there.
Check out this Cars Fork and Spoon Set.