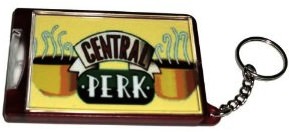 Your friends from the hit TV series Friends of course have a key chain just like this.
Maybe it is because Rachel gave it to them or maybe it is because it is such a handy key chain.
Of course this key chain shows the logo of Central Perk the favorite coffee shop of Friends.
But that is not the only great thing of this key chain. No besides the logo it also has a build in flashlight.
So now when you get home at night in the dark looking for the lock to put your key in you can use the flashlight on your key chain.
If it is time for coffee then run to Central Perk and when you are there buy this Friends Central Perk Key Chain And Flashlight.