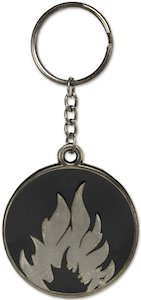 There we have it a key chain with the logo of the Dauntless on it.
Divergent fans will love this key chain that shows the fire logo we all know is the emblem of the Dauntless.
This key chain made by Neca is a metal key chain with on the front the logo of Dauntless and on the back the logo of the Divergent movie and the name of the faction (Dauntless) and a description.
A fun key chain like this is great to hang with your keys but is also great as a piece of decoration on your backpack or maybe your jacket.
Are you Dauntless? If you are then you need this Divergent Dauntless Key Chain.