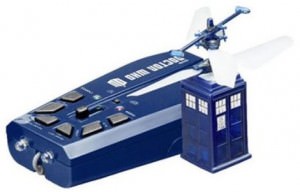 With many cool products and merchandise a Doctor Who fan can get, this is one Tardis you will say is a must have for sure.
Featured here is the classic time and space travelling machine the Tardis from the hit television and series of movies Doctor Who. The Tardis is just as it looks with a few helicopter propellers at the top so your Tardis can actually take flight.
This Doctor Who Tardis stands 3 inches tall and is made to fly just as a remote control helicopter would, the Tardis flying vessel can be charged by a USB and the remote control is battery operated.
Start time travelling with the Doctor Who Remote Control Flying Tardis.