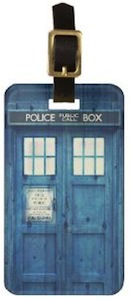 Doctor Who fans don't loose your bags while time and dimension traveling.
If you don't have a luggage tag on your bags then on advice of the Doctor we would suggest this nice Tardis luggage tag.
As you can see it looks just like the blue police call box but we all know that it houses so much more.
The luggage tag is 2 x 3.5 inch and is made out of durable acrylic. Both sides of the tag have the same picture of the Tardis on it and if you want that is the only thing on it.
But most of use would like a bit more from a luggage tag so this Tardis tag is custamizable with the text you want.
You can have your current, past or future address printed on it or maybe just your email address, the possiblilities are limitless.
This Doctor Who luggage tag has also a letter strap to connect it to your suitcase, backpack, handbag or anything else that could use some Doctor Who magic.
So if you are ready to travel with the Doctor then get your own Doctor Who Tardis Luggage Tag.