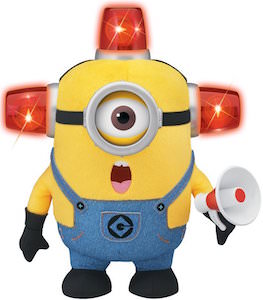 If you like Minions then you know about the fireman Minion just like we seen in the Despicable Me movies.
The fireman is a plush toy but there are hard plastic parts so not really great for taking to bed.
But when you give this Minion a hug then things really start to happen because when you press his belly lights go off and he makes the "Bee-Do, Bee-Do" sounds just like in the movie.
And that is not all the fun you get out of this Minion. When you press the right hand it will have sirens and other things the Minion has to say and the left hand has echo effect and flashing lights.
So if you kids like Minions and plush toys then come get them this Despicable Me Fireman Minion Plush Figure.