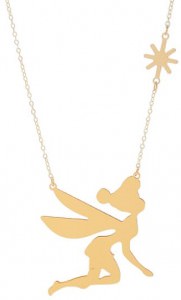 Do you have a little Tinker Bell fan in your house or do you know one?
This adorable Tinker Bell necklace is the perfect gift for any women young or old who loves the Disney princesses and especially "Think" who is the centrepiece of all the fairies.
In all her movies, Tinker Bell is seen flying about quickly spreading fairy dust from her wand and that is what you can see on this necklace.
A gold colored Tinker Bell silhouette is hanging on a fine chain and she is looking up at a large piece of gold colored pixie dust a bit farther up the chain.
Give the little girl in your life many happy thoughts and make her feel extra special with this Flying Tinker Bell Necklace.