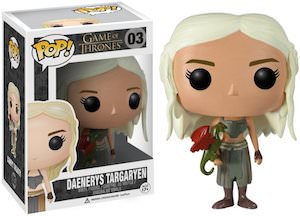 There we have Daenerys Targaryen the mother of dragons from the hit TV series Game of Thrones.
This is a figurine of Daenerys from the Pop! Vinyl collection from Funko.
At 3.75 inch this figurine of this Game of Thrones character is perfect to collect.
As you can see Daenerys Targaryen has all the details you expect from he white hair to a dragon on her arm.
The nice things about collecting these figurines is that they come in great looking display boxes so that you can show Daenerys Targaryen of to your friends without the need to get it out of the box. And then maybe one day it becomes worth a bit of money to a collector of Game of Thrones merchandise.
For now just have a closer look at this Games Of Thrones Daenerys Targaryen Pop Vinyl Figurine.