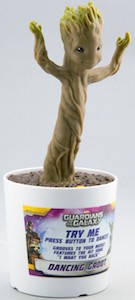 Remember dancing baby Groot in the movie Guardians of the Galaxy?
Now you can have your own little Groot and he will even dance for you. Just turn it on and the Jackson 5 will start playing and Groot will start doing his dancing.
This replica of Groot comes in a white flower pot and just makes for a great collectible that will look great on a shelve where it can dance all day.
Now every Marvel fan can have their own tree that does not need any water just some power and Groot will dance.
Come take a closer look at this Guardians of the Galaxy Dancing Groot Figurine.