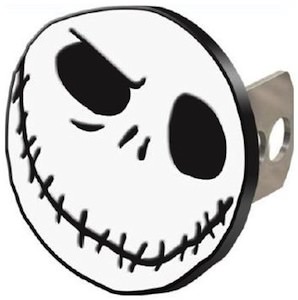 Your truck's trailer hitch can look so much better when you get a fun hitch cover and this cover can do the trick.
The cover shows the head of Jack Skellington from The Nightmare Before Christmas.
And this Jack Skellington hitch cover is made from all metal so it will be strong and will last.
It will fit a standard 2″ and 1 1/4 receiver.
So now is the time to dress up your cars hitch with this amazing The Nightmare Before Christmas Jack Skellington Hitch Cover.