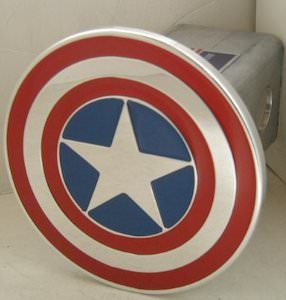 There is the shield of Captain America and this time it's not as big as the real thing.
But this shield is a hitch cover so it does not have to be huge.
Just slide it in to you hitch receiver and you are set and your car will get an instant upgrade.
Not only will you keep dirt out of you hitch receiver you also show the world what superhero you like and Captain America is cool so who is not gone like it.
The Captain America hitch cover is made from aluminium and will fit a standard 2 inch receiver.
Time to upgrade you car or truck with this Marvel Captain America Hitch Cover.