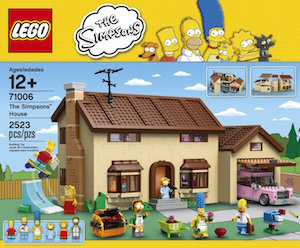 Are you looking for the special Simpsons piece to add to your collection?
If you like LEGO then look no further because this is the Simpsons house made out of LEGO.
The set includes the house and it opens up and the roof can be taken off to so that you can go look in all the rooms and there is a garage with the famous car the Simpsons family drive in.
Then there is a BBQ, skateboard ramp and more. And yes the whole Simpsons family is included to and even neighbour Flanders is there.
Expect 10+ hours to work on this master piece but after that you will have you own LEGO Simpsons House.