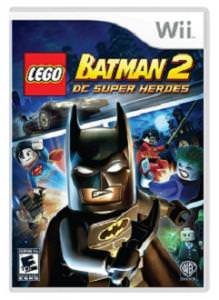 The DC Comic super heroes are ready to battle and fight off evil, and if you thought that your favorite super heroes are already cool well they just got a lot cool.
This is a game that features your favorite super heroes as LEGO figures, the game is called LEGO Batman 2 DC Super Heroes and will feature many DC Comics characters, find Batman, Superman, Joker, Wonder Woman and many more.
A very popular video game that takes Batman and joins him with the other forces of the Justice League to protect Gotham city from a union of evil.
With many cool features these LEGO figures will make playing this video game super fun, find a variety of vehicles including the Batmobile and Batwing and use all of the different super powers of each hero.
The video game shown here is for the Nintendo Wii it is also available in Playstation 3, Xbox 360, Nintendo DS, PC, Mac, Nintendo 3DS, playstation Vita.
Help save Gotham with the LEGO Batman 2 DC Super Heroes Video Game.