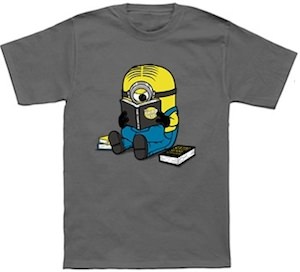 Do you wonder if it would be more difficult to read if you only had one eye?
The Minion on this t-shirt does not seem to worry about it as he seems to be a real bookworm.
But even thought he only has one eye he is reading the book "The Third Eye" and that makes me believe that he would like to have more then one eye.
This grey t-shirt comes in a men and women's version in sizes Small – 6XL and all made from 100% preshrunk soft cotton.
I would enjoy wearing a t-shirt like this and if you know a fan of the Despicable Me movies then they will enjoy this Despicable Me Minion One Eyed Bookworm T-Shirt.