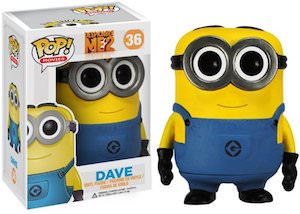 There is Dave one of the Minions from the Despicable Me 2 movie.
And Minion Dave is a vinyl figurine that looks just like the real Dave just without the strange language.
This pop vinyl figure is a great addition to you figurine collection and he looks almost real. It is a little bit freaky that the Minion keeps staring at me but hey I guess if you are a Minion you do things like that.
Despicable Me Dave is about 3.75 inch tall and fit right in with all the other Pop Vinyl figures Funko makes so if you like to collect fun figurines then why not start with this Despicable Me 2 Minion Dave Pop Vinyl Figurine.