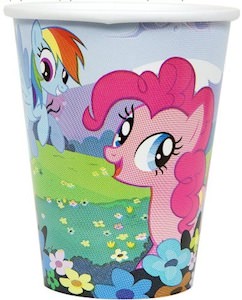 A My Little Pony party is not complete if there are now My Little Pony cups.
But now there are these fun paper cups that come in a pack of 8 and show you favorite ponies on it.
On each cup you will find Rainbow Dash and Pinkie Pie and they look so happy and I am sure it is because they are at your birthday party.
These My Little Pony cups are 9oz and that leaves plenty of room for drinks for the kids.
Start planning your next party and don't forget these My Little Pony Party Cups.