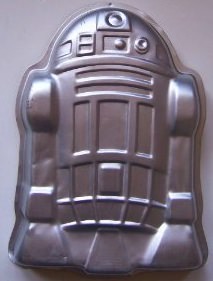 Robots are something kids love and now there is away to get your own R2D2 robot cake.
This cake pan made by Wilton is shaped exactly like R2D2 just like we have seen him in the Star Wars movies.
If you are a Star Wars  collector then this is the cake pan that needs to be in your collection because when friends come over you want to be able to offer them a piece of R2D2 cake.
This item is only limted availible so if you wand a Star Wars R2D2 cake pan you will have to act as they can sell out quickly.
Now it is time to go have a closer look at this Star Wars R2D2 Cake Pan.
You may also like: