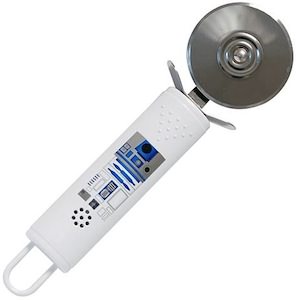 OK so cutting pizza is not very easy if you try to do it with a normal knife.
And that is why they invented pizza cutters. Most of those pizza cutters are boring and plain but hey they cut a slice of pizza to perfecting.
But now you can dump that boring pizza cutter and replace it with a real R2-D2 pizza cutter.
Star Wars fans will just love this pizza cutter that has a white handle with the typical R2-D2 robot design and to make this pizza cutter even better then all the others they gave this one a voice.
OK voice is a big word but it will make R2-D2 sounds when you cut the pizza.
Dinner time and it all start with cutting the pizza with this Star Wars R2-D2 Pizza Cutter.