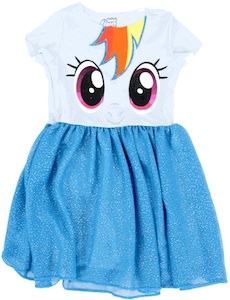 Now you little girl can be Rainbow Dash her favourite character of My Little Pony.
This toddler dress is blue of course and the top has the face of Rainbow Dash including the colorful mane.
On the back of the top you can find some wings because this pony can fly.
Kids are gone love to dress up like Rainbow Dash because now they can be a fun pony an sing and dance around the living room.
This My Little Pony toddler dress comes in sizes 4 – 8 so that you can get you little girl the dress she needs now.
Come and play in this My Little Pony Rainbow Dash Toddler Dress.