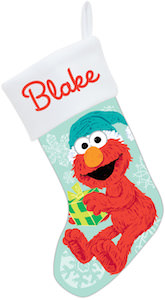 If you kid is crazy about Elmo from Sesame Street then you should take a look at this personalized Christmas stocking.
This 16 inch tall stocking is just like any other stocking just better.
On the back and the front you can find a fun snowflake pattern and on the front you can also find Elmo with a hat on and a present in his hands and then to make it all complete the top of the stocking has you kids name on it in red letters against a white background.
The name can be up to 10 characters and can say anything you want.
Make Christmas extra special with this Sesame Street Personalized Elmo Christmas Stocking.