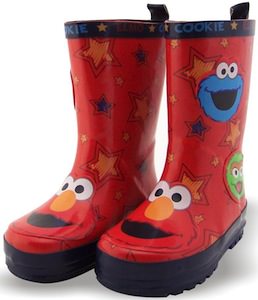 These Sesame Street rain boots are amazing looking and I just wish they had them in my size.
These toddler rain boots are red with stars all over them and on the front your see Elmo and on the side it has pictures of Cookie Monster and Oscar the Grouch. The top has a black part on witch the names or Oscar, Elmo and Cookie are printed.
With boots like this you just wish it would rain so that you can take your Sesame Street rain boots outside.
Come check out these amazing Sesame Street Toddler Rain Boots.